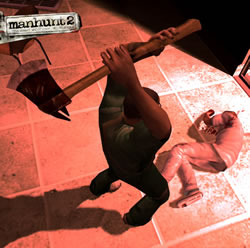 Manhunt 2 has been hanging around the news all week long.
It started off with being banned by the BFFC for sale in the UK, now it's being called a "fine piece of art" by the game's publisher, Take-Two.
The game, written by Rockstar Games, must be liked by the chairman of Take-Two, as he is now on record say that he "Fully" stands behind the game.
More extensively he release a statement saying
"The Rockstar team has come up with a game that fits squarely within the horror genre and was intended to do so," he continued, "It brings a unique, formerly unheard of cinematic quality to interactive entertainment, and is also a fine piece of art."
So there.