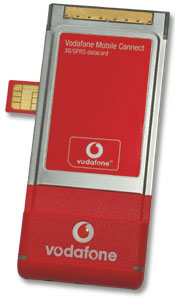 From the beginning of July, Vodafone UK is dropping the price of their Mobile Broadband service to £25 a month or a 'designed to get you to take the monthly offer,' £8.50 for 24 hours.
There's also a new feature that gives the ability to continue data connections, while you're in select European countries for £8.50 for 24 hours.
All of these prices exclude VAT.
They are pitching it as a real alternative to fixed-line broadband and Wi-Fi.

As with a number of landline broadband offerings, Vodafone has transfer caps to their service – 3GB per month, 500MB for the 24 hour service and 50MB while roaming abroad.
If you're a big, hairy business traveller, trotting the globe, there's the Mobile Broadband Travel service available. It's a wallet-busting £95/month, but does give up to 200MB of data on any network where Vodafone UK has a data roaming agreement – double the previous data allowance.
Recommended by Digital-Lifestyles
We are _HUGE_ fans of the 3G (2.5G when 3G not available) service and it's has saved our bacon many a time, giving access when there's not been any Wi-Fi around. The Vodafone service has given us the ability to report live from events in many part of the country.
As regular readers will know, it's very rare that we recommend products, so this must be special. Having this service is like tasting the future, where connectivity will be available to you at any time.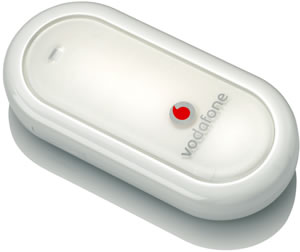 The great thing is that it's not just a PC offering. PC users can use the data card, but Mac users can use the most pleasant USB modem.
It has a theoretical top speed of 3.3MBps on HSDPA, although we've never reached that. The speeds we normally achieve are highly respectable, even access from a speeding train is reasonable.
The only things that has put us off recommending it to you dear reader has been the previously frightening price. The recent announcement brings it closer to the point of being payable by individuals, where previously it's only been realistic when business have been paying the bill.
Background
Vodafone introduced their 3G service in the UK in 2004 by leading it with data services aimed at business users – before offering voice services. Prices then were remarkably high.