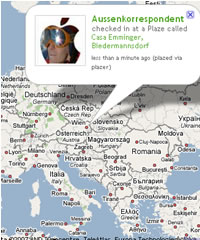 Plazes, a service that enables its users to create geo-indexed information, has finally come out of beta to a release version.
We've been using Plazes for over two years now, so its beta phase has been pretty extensive. In that time it has grown not only in number of users, or locations 'discovered' – it's topped 20,000 places in over 120 countries now – but in terms of functions.
Since we last looked at it, about six months ago, it's gained a Twitter-like function – the ability to add short messages telling people what you are up to at any time of the day. This can also be done by mobile phones these days.
Further new additions bring the ability to add comments to any of the Plazes – anywhere with a WiFi connection – providing a review function as well.
If you haven't see it before it's well worth having a look at – Plazes