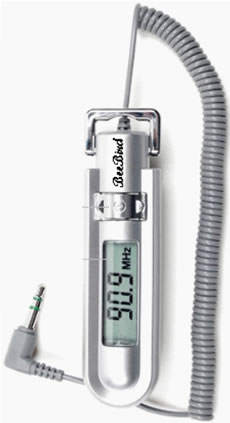 BeeBird, another FM transmitter reaches us, this time with a pretty decent look about it.
The Chinese manufacturer, netSharp, got in touch with us give us the heads up.
There's a not-insubstantial 199 channels available for transmitting your fave sounds. The frequency range that can be chosen between, is 88.1 – 107.9MHz.
The chosen frequency is displayed on the LCD display, while the simple up/down shuffle changes the frequency.
It's got FCC approval, and as long as its output is under 50 nanoWatts, it will be legal in the UK under OfCom rules too.
It looks at light as it is at 30g excluding the one AAA battery it runs on (there's also a car power adaptor available). As you'd expect, it has a 3.5mm headphone jack, so will play from any sensible music source.
Price? Not clear yet. We hadn't heard back before going to press.