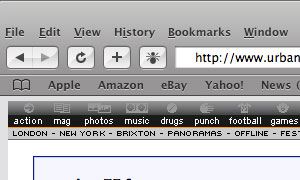 The browser wars just kicked off again as Apple's CEO announced a new Windows rival for market leaders Microsoft Explorer and Mozilla Firefox.
Declaring himself ready to "dream big," Steve Jobs declared that he wanted his company to expand on the the 4.9% market share currently enjoyed by his Safari browser, which until now has only been available on the Apple platform.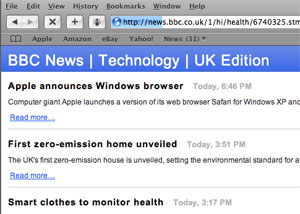 Speaking at a conference of developers for Apple products in San Francisco, Jobs insisted that the new Safari browser was "the fastest browser on Windows", claiming it whizzed along at twice the speed of Internet Explorer.
Au Revoir Bonjour
Keen to try this out for ourselves, we downloaded a beta copy from the Apple website and hit the install button.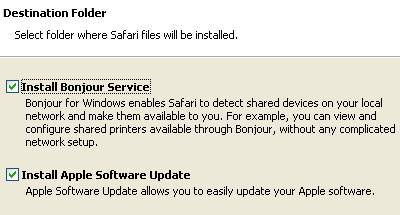 Things were going swimmingly until we were hit with a pop up asking us if we wanted to "install Bonjour Service."
"Bonjour" what?! we thought to ourselves (Apparently the Mac savvy at DL were amazed that we'd lead such sheltered lives), so we read on and learnt that it lets the browser "detect shared devices on our local network and make them available to us."
We've no idea what it was going on about and would suggest that most regular Windows users would be completely baffled too, so it was a hardly a good start – or a good advert – for Apple's much trumpeted user friendliness*.
After instructing the program to leave our local network well alone, we fired up Safari to be greeted with a none-more-Mac interface that clearly retained a close family likeness to their popular iTunes app.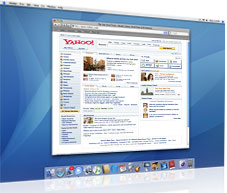 Safari vs Firefox
We can't say that we're fans of the flat'n'grey Safari look (we hope there'll be skins made available soon), but the thing was certainly nippy, roundly trumping the bloated behemoth that is IE.
Against our browser of choice, Firefox v2.0.04, it was very much a mixed picture.
Yahoo loaded a good three seconds faster on Safari but the browser fell apart when it came to a head to head visit to the Guardian website, with Firefox registering 9 seconds against Safari's disastrous 21 seconds.
After testing both browsers on a host of other mainstream and less well known sites, the results remained a mixed bag, with neither significantly outperforming the other overall, although Safari remained considerably faster than IE throughout.
Font smoothing
We did note, however, that our Logitech mouse's auto scroll and back/next functions refused to work with Safari, but a much bigger irritation was the inability to turn off the ruddy font smoothing, which Apple seem to like so much (in edit -> preferences you can only turn the smoothing down to 'light' which is still too much for our tastes).
Some people may like that big, chunky smoothed font look, but we don't, so can we turn it off now please, Mr Jobs?!
Another minor irritation was the discovery that you can't resize the browser from the top, and you can't drag images off web pages straight into image editing programs like Photoshop, as you can with Firefox.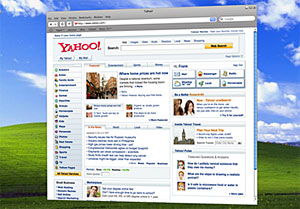 It was the same story when we tried to drag highlighted text off a web page straight into apps like Homesite and EditPlus too, which, for us, is quite a major blow to productivity.
On a more upbeat note, we loved the way that Safari handled RSS feeds and we were impressed with the slickness of the bookmarks interface.
Steve Jobs said that he thought, "Windows users are going to be really impressed when they see how fast and intuitive web browsing can be with Safari," an opinion we can't quite concur with just yet, but with the program only in beta, it's certainly one we'll be returning to.
(* after asking a few blank faced Apple users we finally discovered that Bonjour with Safari lets you share bookmarks and other stuff with people on your local network – but only if they're using Safari too.)