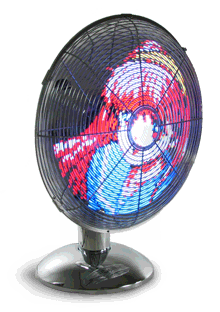 When it comes to what Alan Sugar might angrily dismiss as "useless tut," this LED Art Fan must be a prime candidate to be fired.
Utilising no less than 42 LEDs mounted on its blades, the LED Art Fan hurtles along at a fair old whack to create an animated image through what the fellas in white lab coats describe as 'persistence of vision' – i.e. the process by which your retina retains an image long enough to create the illusion of a solid image.
The notion of a humble fan having memory still strikes us as more than a little odd, but this Chrome Art-Deco number comes stuffed with 5MB onboard storage, letting you keep up to 128 individual images ready for spinning up.

Images can, apparently, be animated, spun, flashed and dissolved on the fan, with the thing connecting to your PC via an available serial port on a Windows 2000 and Windows XP machine. It's also programmable via the included IR transmitter.
The fan can import animated GIF files, or users can get creative on their own designs – so it won't be long before you start seeing companies trying to woo their visitors with – joy of joys! – spinning animated logos on fans.
The price? A mere $389.99 from thinkgeek.