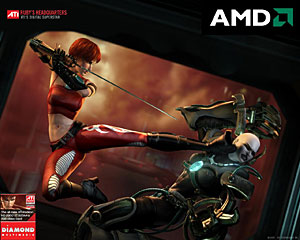 Top notch multimedia gear shifters Diamond Multimedia have announced their new Diamond Radeon HD 2900 XT 1GB, a super-beefy graphics card boasting no less than one gig of GDDR4 onboard memory with an ultra-wide 512-bit memory interface.

Aimed at the super hardcore gaming cognoscenti, this leading edge beast offers second-generation unified shader architecture, 512-bit memory interface, integrated CrossFire scalability, and built-in HDMI support.
Suitably bedecked in snazzy go-faster flames, the card also comes with ATI's Avivo display technology and sports a dual-link DVI output, multi-channel 5.1 surround audio and HDCP compliance.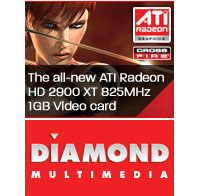 Powered by the XBOX 360 Xenos GPU, the Diamond Radeon HD 2900 XT 1GB proudly claims the crown for the world's first single GPU consumer graphics card with 1GB of memory, and we can expect it to come with a price so high that hardcore fraggers will be crying into their joysticks.
Diamond claim that their "700 million-transistor processing powerhouse with Dynamic Game Computing technology" will unleash the "full potential" of DirectX 10, providing "jaw dropping effects and spectacular performance."
The company are also billing the card as the "ultimate Immersive HD Gaming experience," and if the cutting edge specs are anything to go by, who are we to argue?
Diamond Radeon HD 2900 XT 1GB features:
Dynamic Game Computing Technology
320 Unified Stream Processors
512-bit memory interface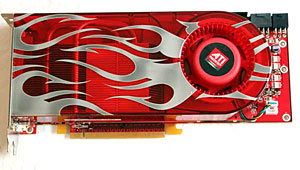 Dynamic Geometry Acceleration
High-speed 128-bit-HDR (High Dynamic Range) rendering
Physics processing support
Up to 24X Custom Filter Anti-Aliasing
146GB bandwidth
Plug-and-play CrossFire support
ATI Avivo HD Video and Display Technology
Built-in HDMI with Multi-channel 5.1 surround audio
Dual dual-link DVI with full resolution HDCP support
HD video playback
Dual 30-bpp display processors
Optimised for Windows Vista with comprehensive DirectX 10 and DirectX 9 support