Carphone's pre-tax profits have crashed ten per cent to £123.1million, with the company's financial buttocks feeling the lash of their £80.5million free broadband launch.
The launch just wasn't just painful for Carphone, with punters galore feeling the weals of a truly rubbish service, being forced to wait months on end while the company struggled hopelessly to catch up with demand.

Customers were so mightily unmiffed a consumer backlash gathered speed, with the company hitting rock bottom in the UK broadband satisfaction table.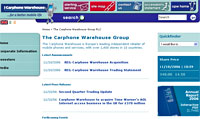 The company blamed their plummeting profits on the increased admin costs and additional staff needed to deal with the multitude of customer service issues surrounding their half-cocked broadband launch.
Ready and willing to put the dour facts into the spin drier and make everything seem rosy, Carphone chief executive Charles Dunstone exalted: "Distribution profits are up 22% and in the 12 months since we launched our broadband proposition we have become the number three player in the UK broadband market."
Still spinning at an astonishing rate of knots, he continued, "The customer service issues which arose from the unprecedented response to our free broadband offer have now substantially been addressed."
"Demand continues to be strong and customer confidence in the service is increasing," he added enthusiastically.