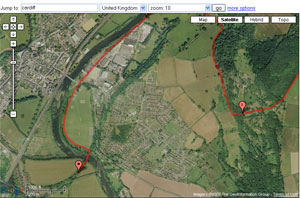 We're big fans of walking and cycling, so when we heard about gmap pedometer we donned our virtual Goretex walking boots and hiked straight over to the site.
Like many of the best Web apps, this one is dead simple to use, and uses Google's superb mapping application to help record how far you've travelled.

If you've ever tried to work out walking distances on a regular Google Map it can be quite a tough task, and unless you're packing a GPS unit in your backpack – or a good ol' pedometer – it's hard to work out the precise distance you've trampled.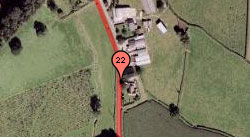 So here's where the Gmaps Pedometer comes in: simply locate yourself on the Google map, click 'Start recording' and then input your wanderings by double clicking along your route.
American users can just type in a street address, city and country, zip code, latitude or longitude, but Brit users need to click the "more options" button to the right of the "go" button, and select UK from the dropdown menu before typing in their address details.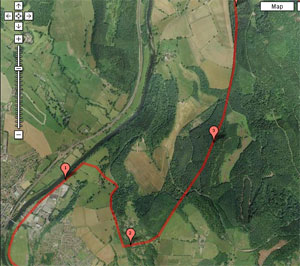 Because it uses the regular Google Maps interface, you can plot your route using a map, satellite or hybrid view, with your walk being highlighted as a red line (which turns blue when you save it) with mileposts popping up every, err, mile on the map.
The more clicks you put in to your route (zooming in makes it easier), the more accurate the distance recorded will be as the app doesn't "know" where roads or paths are.
Routes can be saved, with your location, distance and elevation details (US only) accessible via a unique URL letting you bookmark or email your wanderings to others.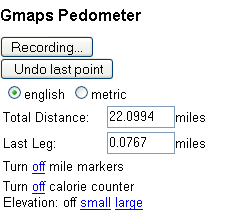 Weight watchers can also get an estimate of the calories burned from their walk although – like the distance total – it won't take any elevation details into account.
Although we'll inevitably be swamped with readers telling us of near-identical apps elsewhere, we've been looking for something like this for ages and we like it so much it's gone straight into our hallowed bookmarks file.