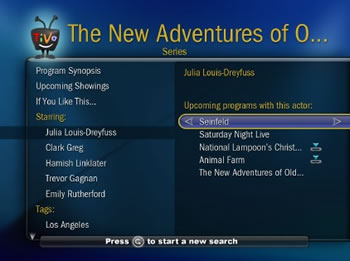 Tivo have released a new search function that searches over not only the content on the box or that provided by the broadcaster subscribed to, but stretches beyond this to encompass relevant results from the TiVoCast service and Amazon Unbox™ on TiVo.

Being TiVo, they've tried to make the process as simple as possible with the starting point being the TV programmes that each viewer likes, in their words …
Universal Swivel Search allows viewers to seamlessly link from descriptions of one program to all others that have common elements, including program name, actors, or suggestions based on other viewers' feedback. Additionally, users can find programs related to a specific subject with 'tags,' which are topic-related terms that might not be included in the program's title or episode description, but fall under an over-arching subject of interest.
We see this as a smart move by TiVo, as they'll get subscribers thinking out of the box (sorry, couldn't resist that one), opening the growing sea of content to them.
If you're a TiVo subscriber with a Series2 or Series3 box, you've got a chance to get on-board and sign up for it now.
Image courtesy of Zatz Not Funny