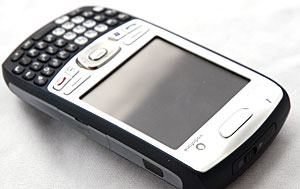 In part two we looked at call quality and some of the functions of the Treo 750v, today we finish with software, connectivity and our conclusion.
Software
In line with its business aspirations, the 750v comes with mobile versions of Internet Explorer, Word, Excel, PowerPoint, Outlook, Picsel PDF Viewer and Windows Media Player. Unfortunately, the Treo's d-pad wasn't fully integrated with some of these apps, so the trusty stylus had to be launched out of its silo from time to time.

There's also a voice command application that managed to just wind us up (the thing kept turning back on and barking robotic demands for us to "please repeat" until we finally worked out how to silence it).
We also suffered some annoying Windows error messages that popped up from time to time, although this was more the fault of the operating system than the Treo.
Lord knows we've tried to love Windows Mobile, and much as we admire its technical capabilities, its unfathomable quirks can drive us mad.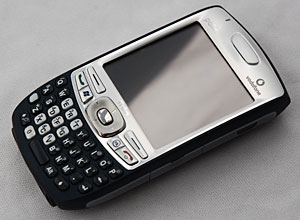 Connectivity
The phone packs a fair bit of connectivity: GSM/GPRS/ EDGE/UMTS radio, 850/900/ 1800/1900 GSM bands, 850/1900/ 2100 UMTS bands but Wi-Fi is noticeable by its absence.
For some this may be a deal buster, but if you've got a good data deal with your network provider you can probably get by just fine (or you can always add a Wi-Fi card).
There's also Bluetooth 1.2 on board (supporting streaming to stereo headsets and wireless synchronising) and Infrared. The 750v can also be used as a wireless modem, so you can flip open your laptop and access the Internet at 3G speeds via Bluetooth.
Conclusion
We liked the Treo 750v. Although it's somewhat of a lardy beast by contemporary standards and the omission of Wi-Fi may prove a major sticking point for some, we found it one of the most usable Windows smartphones yet.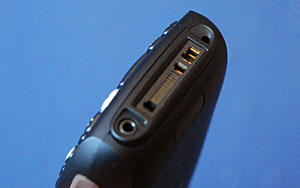 The phone was comfortable to hold and to use, looked smart, and the Palm's finely tuned ergonomics meant that we weren't wasting time rummaging about in sub menus and fumbling for the stylus for everyday tasks.
We've still got issues with Windows Mobile, mind: the fact that programs don't actually close when you click on the big 'X' in the corner is one of the stupidest ideas that Gates & Co has ever come up with, and at times we found the interface exasperatingly fiddly.
So we'll be staying with the Palm OS for now, but if you're looking for a solid and straightforward smartphone that packs a load of functionality into an easy to use package, the Treo 750 could be worth a closer look.
It's certainly one of the very best Windows smartphones we've ever used.
Our verdict
Ease of use: 73%
Build: 80%
Features: 70%
Phone quality: 78%
Value for money: 68%
Overall: 74%
Operating System Windows Mobile 5.0
Radio GSM/GPRS/EDGE/UMTS radio,
GSM bands: 850/900/1800/1900,
UMTS bands: 850/1900/2100
Phone Features Personal speakerphone, Hands-free headset jack
Microphone mute option, TTY/TDD compatibility, 6-way calling
Memory 128MB / 60MB nonvolatile flash memory available to user
Processor 300MHz Samsung processor
Expansion miniSD card slot
Battery Removable 1200 mAH Lithium-ion
Talk time: up to 4.5 hours GSM / 2.5 hours UMTS
Standby time: 10 days
Data preserved by persistent file system
Screen 240 x 240 colour TFT touchscreen display
16-bit colour displays over 65,000 colours
Connectivity Bluetooth 1.2 wireless technology, Infrared (IR)
Support for Bluetooth stereo headsets
Camera 1.3 megapixel with 2x digital zoom
Automatic light balance
Integrated self-portrait mirror
Video capture support
Audio 2.5mm headset jack is stereo headset compatible (stereo headset included)
Polyphonic MIDI, MP3, WAV & video ringtones
External ringer on/off switch with vibrate mode
Keyboard Full QWERTY key layout with backlighting
Integrated number dial pad
Keyguard feature
Power/Sync Multi-connector on device, USB sync cable
International adapter (EU, UK, Aust. And NA plugs included)
Size 113mm x 59mm x 21mm
Weight 154 grams / 5.4 ounces
Palm Treo 750