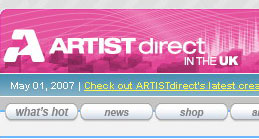 T-Mobile and independent music download site ARTISTdirect have pressed the flesh, slapped each others backs and distributed manly business hugs after agreeing to work together to launch a new UK music download service.

Based on the US version of the service, the UK partnership hopes to hook into the growing market for music and video downloads over mobile phones, with the promise of extra features thanks to the integration of exclusive T-Mobile content.
Following on from a successful run of T-Mobile live music 'Street Gigs' and the well received 'Transmission with T-Mobile' on Channel 4, the service will serve up a comprehensive listing of global music artists and genres as well as news, commentary and features.
There'll also be loads of exclusive T-Mobile content and features available, including detailed artist information, news about upcoming bands, tickets and video picks.
Sam Taylor, head of advertising and brands at T-Mobile, was ready to whip up great clouds of frothy PR fluff: "The shared vision, creativity and innovation of ARTISTdirect.com make it a great partner for T-Mobile", adding that the company, "recognises the importance of online communities in offering the best opportunity to interact with our customers"
Not one to miss a turn on the backslapping merry-go-round, Jon Diamond, chief executive at ARTISTdirect piped up, "T-Mobile is equally passionate about supporting new as well as established recording acts, and its innovative features and services will enable us to provide visitors with an even broader range of content across multiple types of media,"
The ARTISTdirect network has notched up 15 million unique visitors in the US out of a total of 40 million worldwide, and the service currently boasts four million users in the UK.