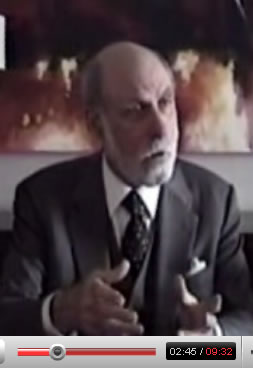 Vint Cerf is well known as being one of the founders of The Internet.
One of his roles (besides being Google's 'Internet evangelist') is as chairman of ICANN.
ICANN performs a number of central roles in the inner workings of the Internet (explained), but is best known for handling and controlling domain names.
Well, this years he's stepping down and is taking the intervening period to try and encourage many other people to get involved with ICANN.
Vint has issued a video giving an overview of ICANN and the sort of people he's looking for to join. He calls it "a grand experiment", and underlines its need to co-ordinate standards as, "in the absence of interoperability, we don't have an Internet."
There's nine places becoming available within ICANN this year, including three at board level. Those hoping to jump from their jobs and join the ICANN payroll will be frustrated as the roles are "uncompensated effort," although the travel arrangements look pretty good (see vid below).
We found it interesting that Vint referred to 'Internets', in the plural, a few times in his video (about 3:10 in), where most people rarely think of it as more than a blob called 'The Internet'.
If you've got a bit of downtime, take a watch, or listen to Vint, may be you'll be inspired, but act quickly because you have to get your application in by 16 May.
I've been on committees of this sort before, so here's some personal advice – Getting change to happen through them can sometimes be like walking through thick mud, so make sure you've got a whole heap of patience.
ICANN