To old school computing bods like us, it doesn't seem that long ago that floppy disks were the main way you lugged your data around.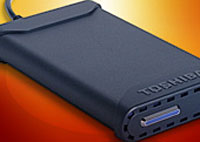 With its feeble 1.44MB storage space, that often meant you had to cart around great boxes of the things.
And with its gnat-like storage capacity, installing programs like Photoshop meant a lengthy spell sat by your machine, patiently feeding in a vast amount of grinding floppies and hoping that the last one in wouldn't display a dastardly disk error.
Come 1994, the hi tech hotshots around town were sporting Iomega Zip drives, which served up a comparatively capacious 100MB of storage space (rising to 750MB in the final versions).
Although we felt the love for the increased capacity, the drive was quite a bulky beast, the disks weren't cheap and folks lived in fear of suffering the dreaded click of death.
By the late 1990s, recordable CDs, cheap flash memory and external hard drives had become the modus operandi for portable storage users, although bigger and bigger files meant that the things soon filled up.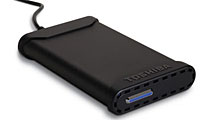 With this in mind, Toshiba – the world's fifth-largest hard drive manufacturer – has decided to elbow its way into the portable drive market with its 2.5-inch USB 2.0 portable external hard drive offering a positively palatial 200GB of storage space. That works out at 57,000 digital photos, 52,000 MP3 songs or 88 DVD videos all wedged into its slimline case (approx 6″x4″x0.9″).
Claimed to offer the highest capacity of any backup solution in the compact 2.5-inch hard drive class, the 200GB beastie comes clad in a sleek vented black aluminum exterior, backed by a patent-pending shock mount system for extra protection.
The USB 2.0 drive also comes bundled with the NTI Shadow software which makes it a cinch to set up a back up schedule.
The full range of drives come in 200GB, 160GB, 120GB and 100GB capacities and the pricing looks good too, with suggested retail prices running from $229.99 (£115) for the 200GB model down to $129.99 (£65) for the 100GB.