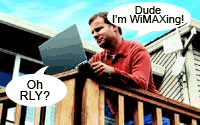 The world's top handset maker Nokia has announced that it expects to start shifting mobile devices using the WiMAX Internet technology by early 2008.
WiMAX (or Worldwide Interoperability for Microwave Access if you're a spoddy type) lets laptops, phones and other suitably equipped mobile devices access the Internet at Billy Whizz speeds.
The technology uses a licensed spectrum to offer long-range (we're talking kms), point-to-point connections to the web from the service provider to the end user, with Nokia saying that they plan to bring their first WiMAX enabled mobile device to market in early 2008.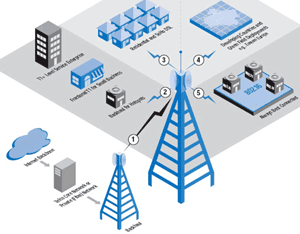 Nokia's numero uno handset rival, Motorola, has announced that it fancies a piece of the WiMAX action too, saying that they'll also be bringing a WiMAX enabled mobile phone to market in 2008.
Intel, Nokia, Samsung and Motorola are all feeling the love for the open-standard WiMAX. The technology can be used as an alternative wireless broadband Internet connection for 3G users, which is handy because net access on 3G mobile networks can slow right down if networks fill up with yakking voice callers.
WiMAX should considerably reduce the cost of wireless broadband – up to 10 times cheaper than current third-generation cellular telephony networks – but the technology isn't apparently too hot for handling wireless voice calls.
WiMAX looks good when it comes to pricing: the radio spectrum for WiMAX networks is rented out at cheaper rates by regulators than the 3G mobile phone spectrum, and WiMAX equipment vendors reckon that infrastructure and handheld devices work out cheaper than 3G systems too.