Orange France have picked up a deal with the US studio Paramount Pictures, to distribute their content in France.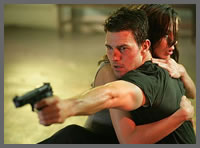 It's not just old content that will be available, but new productions from Paramount including DreamWorks titles, which will be among the latest films available.
Orange France customers with a broadband digital television package or a High-Speed Internet package will be able to enjoy a Video-On-Demand programming schedule including the studio's latest releases, such as Mission Impossible III, Over the Hedge and World Trade Center, among others.
There's over 2,500 films, in French or original language versions with subtitles, available on the 24/24 Video service currently, which costs from 3 Euros to rent for 24 hours. Usual features such as unlimited viewing, pause functions and fast forward and rewind are available.