With all of these moves towards digital delivery in entertainment, we thought it would be worthwhile understanding one of the key items in this process – how to get the digital content to UK households.
Steve Kennedy is an acknowledged expert in the telecoms and data networks field, so it was an obvious choice for us to ask him to write an overview of how other IP operators can compete with BT – by creating their own data network. To do this, they need to put their own equipment into the telephone exchanges that connect to peoples houses. That process is Local Loop Unbundling (LLU).
Over the next three days we'll give you a full background in LLU in the UK.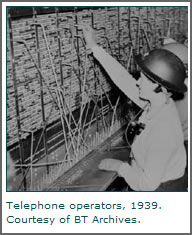 What is Local Loop Unbundling (LLU)?
LLU is the ability to put equipment into BT exchanges (know as DLEs – Digital Local Exchange) and take over the copper line into the premises.
There are two forms known as Option 2 (metallic path facility as BT call it) and Option 4 (shared metallic path facility).
Option 4 characteristics: –
Operator takes over the line and only offers broadband services (of course they can offer services on top of the basic connectivity).
BT retain control of voice services.
BT send out the "Blue Bill", this includes line rental and voice traffic which means they can still market their services to the customer.
Option 2 characteristics: –
Operators takes over the line completely.
No BT blue bill.
Once the operator has put the equipment into the DLE, then they have to connect it back to their own network. BT can provide this using BES (Backhaul Extension Services) or the operator can use their own connectivity solution. Most operators don't have the coverage to provide their own connectivity solutions.
DLEs
BT have around 5,600 DLEs across the UK (i.e. telephone exchanges) and these have customers connected to them. Around 1,200 are in densely populated areas, another 800 or so with medium populations and the rest in rural areas.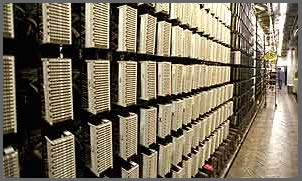 Any operator wanting to offer broadband (and possibly voice) has to put their equipment in these DLEs. However there is a cost to unbundling an exchange (around 100,000 including backhaul) which means operators are only targeting the most densely populated ones.
LLU Operators
Operators who have unbundled exchanges are: –
Any operator with a "-" after has been acquired by another player.
* AOL (UK) Ltd – CPW
* Be Unlimited – O2
* Bulldog Communications Ltd – Users to Pipex, LLU C&W
* Cable and Wireless Ltd
* Computacenter PLC
* Easynet – Sky
* Eaton Power Solutions
* eXstream Networks Ltd
* Groestar Ltd
* Kingston Communications (Hull) Plc
* Lancaster University
* Leanwood Communications Limited
* Lumison
* Nestor Electronics Ltd
* Opal Telecom (CPW)
* Pipemedia Ltd
* Pipex Internet Ltd – who knows, up for sale
* Tiscali
* T-Mobile
* UKBB
* Unisys Ltd
* Updata Infrastructure UK Ltd
* Videonetworks Ltd – Tiscali
* Wanadoo
* WB-Internet Ltd
* Zen Internet Limited
Some of the smaller players are conducting trials and some are just offering private services (like Updata who offer connectivity solutions to councils etc).
Tomorrow, the penetration of LLU in the UK and the economics of it.