There's a scramble for US spectrum by a collection of big-time venture capitalists.

In the same way that UK frequencies are being freed up by analogue TV going digital, a big chunk of valuable frequency will also be coming up for grabs in the US too. The big difference is that the US one is coming up a lot sooner, with the US government having mandated that their analogue switch off occurs on 19 Feb 2009.
Once freed-up, it is to reallocate the frequencies to public-safety organizations and commercial broadband networks.
According to the IHT, one of the contenders is a company called Frontline Wireless, which was formed at the start of this year to try to utilise the 700-megahertz band – by fulfilling both public-safety usage and commercial usage simultaneously.
A key part of their technical solution is the use of Software Defined Radio (SDR), which allows the same device to operate on many different frequencies, using the same chipset, switched by software.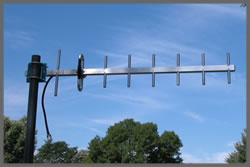 The 700-megahertz frequency is highly favoured as it has a significant capacity, good range and can easily penetrate buildings and other structures.
Frontline has a number of advantages on their side. Not only does it have Reed Hundt, a former Federal Communications Commission chairman acting as Vice Chairman, but the company's first public investor was K. Ram Shriram, an early Google investor known for his investment acumen. Venture capitalists L. John Doerr and James Barksdale, originators of Netscape, have also jumped on board.
They plan to offer to the public-safety network free of charge, while monetising the commercial side of the network. It's estimated that they'd spend over $8 billion building out the network.