Large pools of envious drool and "gimme! gimme! gimme!" saliva were found dripping around the desks at Digi Lifestyle after Sony's latest version of the superlight Vaio G1 laptop was spotted on t'web.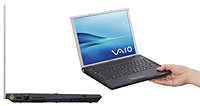 Previously released as a featherweight 2.1 pounds laptop sporting a 40/80GB hard drive and 12.1 inch display, Sony have just cranked up the VAIO's desirability rating to wanton craving with the news of a 32GB Solid State Disk option.
With the hard drive ejected and replaced with super silent, super fast, super durable solid state flash memory, the laptop can now claim to be the world's lightest 12.1-inch laptop, registering a butterfly-untroubling 1.89-pounds.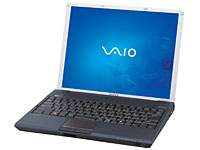 Without a hard drove rattling away inside, the standard battery life has been extended by half an hour, giving a very generous 6.5 hours in total. Users investing in the longlife 'L' battery can enjoy a battery life that will leave even the Duracell bunny in need of a fag and lie down, with Sony claiming a whopping 12.5 hours of use.
As well as the 1,024×768 pixel (XGA)screen, there's also an Intel 945GMS Express video card, 2 x USB 2.0 ports, a Type2 PC card slot, memory stick PRO/DUO and SD card/MMC slots, Gigabit Ethernet, modem and voice input/output.
Its dimensions may be small (277 x 215 x 23.5-25.5mm) but the price tag is a bit of a heavyweight beastie, with the base unit starting at around 229,800 Yen – adding up to a hefty $545 premium over the 40GB hard disk option.