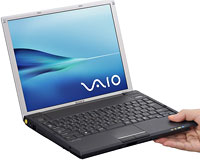 Sony has announced that it will be launching what it claims is the world's lightest notebook computer in December in Japan.
Aimed at the swivel-action, besuited business crowd, the carbon-cased Sony 'type G' Vaio lappie weighs in at a fluffy-cloud like 898 grams, with Sony's boffins still managing to fit in a 12.1-inch LCD screen, Bluetooth, Wi-Fi and a mighty battery life.
Looking closer it appears that they've also managed to wedge in a fingerprint reader too.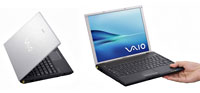 Sony claims that their new laptop will keep on rocking for 12.5 hours on a single battery charge in Stamina mode – long enough for even the longest haul commuters.
There's no optical drive onboard, although there's also an optical drive version available, weighing a pixie-untroubling 984g.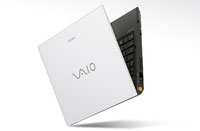 The new lightweight range will be powered by a range of three CPUs (Celeron, Core Solo U1300 and U1400), backed by 512MB of RAM and 40-80GB hard disk drives.
From what we've seen of the press photos, it seems that the laptop will be available in grey, blue and carbon finishes, all of which look delightfully natty to us.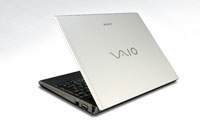 Sony said that it currently has no plans to sell this featherweight beauty overseas (which is a real shame because our hearts are a-pumping at this little fella), but has announced that they will be knocking out for about 220,000 yen in Japan ($1,881, £985).