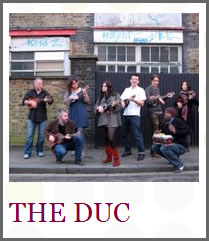 Our Sister site, Ventnor-Blog, has been scooping the world with announcements of who and what will be appearing at the amazing, manic extended weekend that is Bestival.
Besides the now-known amazing acts of The Beastie Boys, Chemical Brothers, a whole slew of talented ladies, Primal Scream, Jah Wobble and many others will be appearing.
The latest mold-breaking announcement of today is that willing punters, will themselves be able to play on stage at this coming Bestival, if they're willing to pick up a ukulele and learn to play it.
That's all very lovely, but what's the relevance for Digital-Lifestyles? Well, the innovative way that enthused Uke holders will get up to speed on the required songs is via MySpace.

The whole jolly lot is being organised by the venerable Dulwich Ukulele Club (background) through the Night of 100 Ukes's.
On there, in the lead up to Bestival, will appear details of the songs, the lyrics that need to be learnt and the cords that need to be sweated over in pursuit of Ukulele-nirvana.
The majority of preparation through practice will be done in the privacy of Uke-ers homes, but besides the planned rehearsal at "a central London pub" in August, Who knows, they might even choose to use Skype to Live to have remote practices.
We're going to keep an eye on this one, both in our personal pursuit of Uke-ism and to watch how this MySpace-driven mass learning works out.