Our favourite UK Set Top Box manufacturer is celebrating their 25th birthday this year.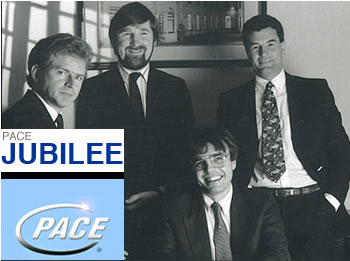 25 years! Staggering how old the industry is now isn't it?
Waaaaaay back in 1982 they started off selling modems and software. Their first product was a PSTN modem called the Nightingale and we can even remember Pace modems from back when 1200/75 baud modems appeared as an exotic advance from the 300 baud ones that were the standard.
For all of you young ones who weren't around in those days, that's 1.2/0.075 Kbps vs 0.3 Kbps. Scarily slow.
Following their modem and software successes, Pace launched their first satellite set-top box (SR640) in 1987 and like all design, it was a product of its time, with a fab HiTech feel about it.

From there, Pace really haven't looked back. They've consistently carried out pioneering development, building up a large selection of industry firsts, including the first digital satellite receiver in the UK, the first PVR (personal video recorder) in Europe, the first low-cost digital terrestrial adapter (thereby creating the freeview market in the UK) and, more recently, the very first H.264 DVB-S2 high definition set-top box in the world.
Their latest and greatest product is a HD DVR, the HR20, which records using MPEG-4.

If you, like us, dear tech trivia fan don't know the history behind the name of Pace, you'll be excited to hear that the name Pace came from an innovative shipping company in Australia called the Pacific Australia Container Express.
The Next 25 years
Looking forward to the next 25 years, Neil Gaydon, CEO, give his views of where Pace will be innovating, "Soon we will see multiroom and home networking solutions coming through, that will allow you to watch anything you want from any screen in the house, including mobile TV. When you add the fact you will import your photos and internet entertainment to any screen, your music to any room in the home along with wireless technologies emerging, so removing the need for wires, we are at the early stages of a new TV revolution."
Best of luck to Pace in the coming years, may they continue their success.