There's a new version of Joost just out today – v0.9 – and amongst the changes, is the switch from using an email address to login to using a username.
Any of those who were slow getting on the Skype-train and ended up with a crummy username take note, you need to act fast to get your name of choice.
To add to the pressure of this, Joost are also giving an extra five invites away to each Joost Member, so the names are disappearing fast.
What else is different with the new version?
The first thing you'll notice when it starts up is that it now opens in full screen.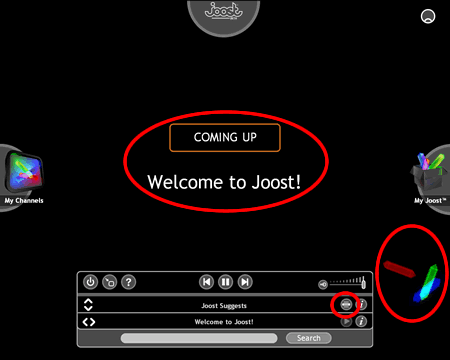 The ident has been moved from its previous dominant central position to the bottom right hand corner. The upcoming programme name has now taken its place now middle centre.
There's been a little fiddling with the icons. Of particular note is the design and function of the one to the right of the channel name. It still brings up the programmes that are available on the channel, but it now has a back button that takes you to a menu of channels – logical really.
Content rating also appears to have been added – or perhaps I haven't previously looked at any content that needed rating.
Picking The Prodigy, Smack My Bitch Up (Live), I was met with a screen asking me to confirm that I was indeed over 18 (quite why it was needed to see this is anyone's guess). Interestingly the muted video appeared to run in the background, while I was working out exactly just how old I was.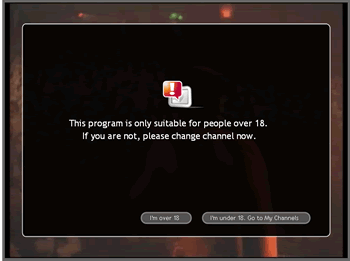 Those of you who have been watching the development of Joost, will notice that the adverts are getting just a little bit longer and more corporate. The latest addition appears to be an advert for IBM notebooks, while it is visually interesting (for the first viewing), it's hardly cutting edge funk-ville.
The only downside we've found so far is that it crashes – not something that we had a problem with in Joost or The Venice Project before.
Ooo … and we've seen there's a promo video up on the Joost site too (new to us). It's here below for your delectation.
[QUICKTIME http://static.joost.com/videos/joostvideo.mov 320 240 false true]