With Internet advertising now thoroughly pwned by Google, the company is now looking to break into TV advertising.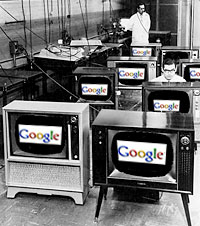 The company is set to unveil deals today with satellite TV service EchoStar Communications and Astound Cable in the US to broker commercials in a similar way to how it offers online advertising.
Advertisers will be able to upload adverts to the company's website and plug in to an automated system to select channel, time and geographical preferences.
Just like the current AdWords system, an auction then determines whether the ads get placed and for what price.
Keval Desai, product management director for Google TV ads, described the new TV scheme as being, "very similar to what we are doing on the Web. TV is becoming like the Web."
During the television pilot, Google will serve commercials to EchoStar's Dish Network satellite channels, a US service which enjoys around 13.1 million subscribers. The adverts won't look any different to regular ones, carrying no Google branding and appearing in the usual time slots.
Google say that advances in set-top-box technologies have made it possible for them to report aggregate statistics on how many times an ad was viewed and whether folks watched it through to the end.
"Advertisers can use this data to understand the effectiveness of their TV ad campaigns and use this information to provide more relevant ads to viewers," the company added.