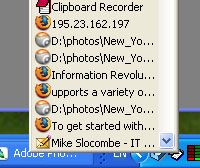 Sometimes the simplest applications can make the biggest difference to your productivity, and we reckon that freeware Clipboard Recorder by LW-Works could be such a fella.
As the name suggests, the program extends Windows clipboard functionality by keeping a full record of whatever you've copied into your your clipboard (annoyingly, Windows normally only lets you store one piece of copied content in memory).
The program is a mere slip of a thing at just 1 meg and equally light on system resources, and once installed provides several ways for you to access content stored in its clipboard.
Once running (it can be configured to start up automatically), Clipboard Recorder lurks in the system tray, quietly monitoring and storing what's going into your system clipboard.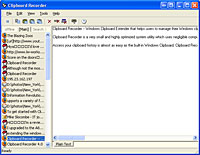 The neatest way to can access the extended clipboard is by selecting the Windows+V keys or clicking on the system tray icon and selecting the desired text from a list of 'headlines.'
If that's not enough, you can also choose to have a floating window on your desktop or go the whole hog and have the full application window open, giving you the opportunity to preview the full content of the pasted clips.
The program supports a variety of formats including RTF text, HTML, CSV and images (although we couldn't get it to store images copied in Firefox) and can even let you transfer clipboard data between computers.
Big time cut'n'pasters can set up separate clipboard records by creating new categories and drag and dropping clipboard contents over.
Conclusion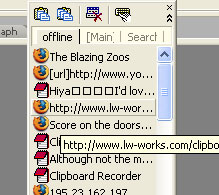 Although it doesn't possess the most attractive interface we've ever had grace our desktop, Clipboard Recorder does a very useful job without any fuss and for free, we're not complaining.
In use, we found the program a real boon and short of some calamitous program malfunction in the future, it's earned a permanent place in our system tray. Recommended.
Score on the doors
Features: 70%
Interface: 60%
Ease of use: 80%
Overall: 84%
Pro version and developments
There is also a professional version available offering extra features for £30, as well as a downloadable preview version of the forthcoming v4.1.
This lets you exclude clips from specific applications (so you don't fill up your clipboard with passwords, for example) and offers the ability to export clips to external files.
The developer seems fairly active on the site too, and seems open to user feedback, so if you like the program give the fella some feedback!