With 'citizen journalism' being one of the loudest buzzwords in the bright shiny Web 2.0 world, it's no surprise to see the big media agencies looking for a slice of the action.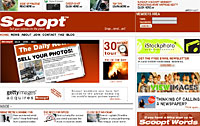 Major news agencies made great use of public camera phone footage after the London 7/7 bombings, with several images making the front page of newspapers.
The citizen journalism photo agency Scoopt currently offers a service that lets users text or email any newsworthy photos and video footage, which the company then endeavours to flog on to the international press on their behalf .
Acquiring the company for an undisclosed sum, Getty Images is looking to fully integrate this service into the output of their pro photographers.
The small print
Camera phone snappers uploading imagery to Scoopt keep their copyright but agree to grant the agency a 12-month exclusive license that lets them re-license the work to one or more publishers, with a 50/50 split on the moolah.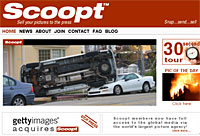 With Getty's well established media network, amateur snappers should expect increased prospects of shifting their work, although Getty hasn't commented if the payment share is to remain the same.
The company has also said that it intends to invest in technology upgrades and introduce further enhancements to make the Scoopt site more accessible to punters.
"New technology has made it easier to capture and distribute imagery, leading to citizen photojournalism that is increasingly relevant to the news cycle," commented Jonathan Klein, co-founder and CEO of Getty Images.
"While this genre will never replace the award-winning photojournalism for which we're known, it's a highly complementary offering that enables us to meet the evolving imagery needs of a broad customer base," he added.
How to take good camera phone pictures
Scoopt's site also provides a handy photo taking guide for wannabe citizen journos, and here's their top ten tips:
1 Hold the camera steady.
2 Concentrate on the subject.
3 Be aware of what is happening around you.
4 Try to connect with your subject but stay slightly detached to look for the best time to take a picture.
5 Go the extra mile to get the picture — but don't take risks and don't break the law.
6 Keep looking and snapping even when you think you have the scoop.
7 Don't be put off by bad light/rain/snow/a duff viewpoint. Sometimes these elements can add to a picture.
8 Be VERY patient.
9 Be single minded. Getting the picture is your objective. Think in terms of images
10 Hold the camera steady! (Did we mention that one already?)