Just like clunky eight track cartridges, brick sized cellphones and desk hogging CRT monitors, the trusty hard disk could be heading for oblivion as Intel announce their first move into the flash drive market.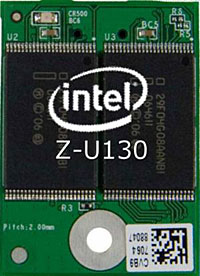 Yesterday, the electronics big boy elbowed its way onto the Flash Memory table clutching news of their Intel Z-U130 Value Solid-State Drive, offering USB 2.0/1.1 interfaces.
Despite its instantly forgettable name, Intel reckons that the NAND flash memory can whip the spinning botty of hard disk drives and removable USB storage devices, offering nippier boot times, embedded code storage, faster data access, silent operation and lower power consumption.
Although no one's predicting that flash memory will replace hard disks quite yet (mechanical drives still enjoy a considerable cost advantage at large capacities), Greg Matson, product marketing manager for Intel's NAND flash memory division reckons they could provide a more reliable and cheaper way of storing information on PCs for emerging markets.
The drives could also be fitted into PCs and servers as a way to speed up the boot process, and thus deprive workers of a good excuse to pop out for a walk, "while the PC's starting up."
Intel is currently keeping schtum about the pricing for their Z-U130 Value Solid-State Drives (it doesn't get any more memorable the second time around, does it?) but the capacities will vary from 1GB to 8GB, with 8GB drive not expected to emerge until the end of the year.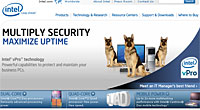 Source
Intel's Green Xeon Processors
Elsewhere, Intel were giving their Eco-Trumpets an extra long parp with the announcement of two new Quad-Core Xeon processors – the L5320 and L5310.
Intel claims that these offer between a 35 and 60 percent reduction in power consumption on low-power, quad-core processors designed for high end users like data centres, blade servers and financial industries.
"Intel has really responded to the industry's call to deliver unprecedented breakthroughs for datacenter energy efficiency," frothed Kirk Skaugen, VP of Intel Digital Enterprise Group and GM of the Server Platform Group.
"IT managers can get outstanding quad-core Intel Xeon server performance today and at no premium to dual-core products," he added.