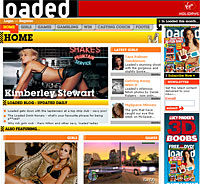 Blokes are generally an easily pleased bunch when it comes to magazines – just shove in loads of high tech gadgets, big cars, some football, lots of wobbling booby babes, video game reviews, pics of dangerous sports and perhaps a page or two on cooking to show off their sensitive side – and they're as happy as a pig in dirt.
Of course, now that they can get most of the above (and more) all over t'internet, mens print magazines have had to set up their own web presences to keep the ol'brand loyalty going and new figures from Nielsen//NetRatings show that the blokes are digging the concept.
Their stats show that Maxim is currently most popular UK online men's lifestyle mag, Bizarre the fastest growing with Monkey enjoying the most loyal audience.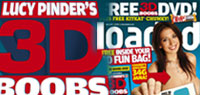 The phwoaar-tastic Loaded site apparently has the "greatest affinity" with men, with 88% of visitors to their site being of the geezer persuasion, followed by Nuts (83%) and Zoo (81%).
GQ is almost a girly mag in comparison with more than half (55%) of their online audience being laydees (or 'foxy chicks' as Loaded might put it).
Market leaders Maxim managed to notch up 479,000 Unique Visitors in January 2007, putting it 27% ahead of second-placed FHM (378,000), although visitor loyalties seem to easily switch: FHM was the most popular site in October 2006, while Monkey ruled supreme in November and December 2006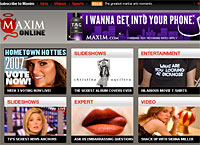 "The last quarter has seen the big three online men's lifestyle magazines – Maxim, FHM and Monkey – vying for top spot. On its official launch in November 2006, Monkey climbed straight to the top of the tree but the last two months have seen a slight, if steady, drop in popularity to fall behind Maxim and FHM," commented Alex Burmaster, European Internet Analyst, Nielsen//NetRatings, commented:
Dennis Publishing were responsible for the three fastest growing online men's magazines, with Bizarre scoring a 255% UA growth, Maxim (124%) and Monkey (99%) between October 2006 and January 2007.
The soaring online figures are in contrast to tumbling print figures, reflecting the importance of the online space to traditional publishers.