The latest model in the SPV range has arrived on the UK Orange mobile phone network.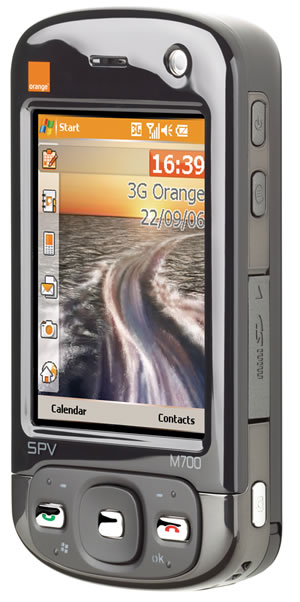 There's been shots of the SPV M700 floating around for a while, but as of today it's been confirmed that there will be a black version in the UK to partner the White.
As well as all of the goodies detailed below, the SPV M700 has Sat Nav built-in – one of the early phone to have this. The handset will be able to take advantage of Sat-Nav from Orange.
The Sat-Nav is powered by Webraska with all maps and live traffic updates are held on a central server and are downloadable from the Internet via WiFi, 3G, GPRS or the Orange EDGE network onto the mobile device. Initially only available to business users, it's now open to all.
The M700 has a 2.8in, 240 x 320, 65,53-colour display, a 2.1 megapixel camera and secondary, VGA camera for video calls and runs Windows Mobile 5.0, so offers Microsoft Office applications including Excel, Word and PowerPoint.
With all of this on board Orange is billing it as helping "you work faster and more efficiently when you're away from your desk."
This 3G handset can offer data rates of up to 1.8Mbps (network allowing) There's quite a few wireless networks supported including EDGE networks as well as UMTS, GPRS and WiFi.
You can get the SPV M700 from Orange shops and online at orange.co.uk. It's free on contracts over £35.