Sky Anytime on PC downloaded its one millionth film on the 14 January neatly marking its first year of operation.
The Sky Anytime on TV service is the renamed Sky By Broadband service, which delivers select Sky's TV content over a broadband connection to a PC.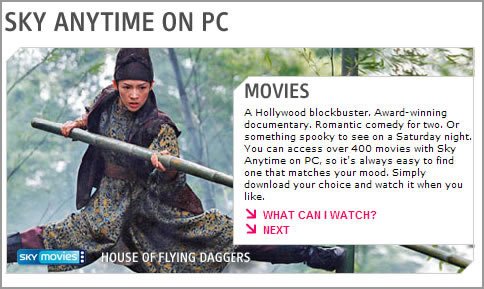 Figures for the film downloads could have been larger if Sky hadn't had to pull the service back in September after their chosen DRM-restriction system, by Microsoft, was cracked.
We're assuming that the million films that have been downloaded have been paid for, making it a pretty big bonanza, given the films are a wallet-emptying £3.95 each. Once subscribers have paid up, they're given access to it for seven days, but are restricting to 48 hours viewing window after the first viewing.
Dawn Airey, BSkyB's managing director of channels and services, was keen to say her piece about it … "We're delighted that customers have taken to Anytime with such enthusiasm. Sky Movies is the UK's most popular movie service and we're able to use broadband to give customers more flexibility in how they watch. The fact that in this first year we've already seen 1m movie downloads is testament to customers' willingness to embrace new technologies and get more from Sky."
Sky report that the service has gained a quarter of a million registered users in its first year of operation.