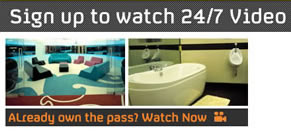 Backstory
Forgive me. I forked over money to Channel 4 to become a paying Season Pass sucker for the Celebrity Big Brother live stream.
My dearest, a less-than closet BB fan, persuaded me to watch CBB on the launch night – something made all the more peculilar by the fact that I don't watch TV anymore (apart from The Simpsons at 6pm on Channel 4, of course).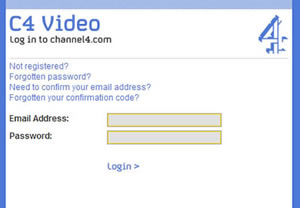 To be frank, by the end of the program I was grateful to her. The sight of the fantastic disdain of Ken Russell made it worthwhile in itself.
What got me reaching for my credit card was the sheer hilarity of seeing Jade Goody enter the house – post her journey through crowds of frantic screaming BB fans, proceeded by her 50-yard car drive and obligatory press photo pose – to a house with three grumpy, quiet people who didn't jump up and down when they saw her enter. It couldn't have been further from her expected truth.
Her face was priceless – well, I thought it was at least worth £5 to see it for a while longer, showing a mixture of confusion and pain.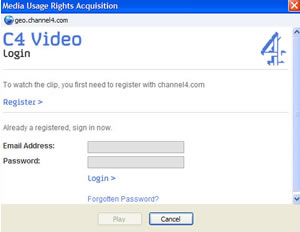 It appeared that finally Endemol had got a quality production team behind this one, lead by an intelligent director.
Hence my giving money, enabling this rubbish to make huge profits for those concerned.
__Using DRM … it _does_ suck
Once I'd registered and paid for it, the first surprise was not to be sent a direct URL to access the stream. Instead the process is long and painful as you have to drag yourself through the Channel4 site to find the stream.
Here's a run down of the hoops they get you to jump through …
*Deep breath now* –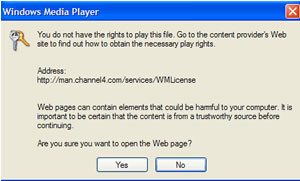 Navigating through their home page to the CBB page; click on the "Watch 24/7" link; then the "Already own the pass" link. This pops up a new window with a form requesting sign up detail (despite the link being specific about already owning a pass).
After some searching you'll notice, at the top of the window, a single word link for Login; which, once clicked, you'll be asked for your email and password.
Finally the video player appears – hurrah!
Don't be fooled, the agony isn't over yet, this is where the DRM pain begins.
Despite having logged in a number of times already, you're told that you do not have rights to play the content.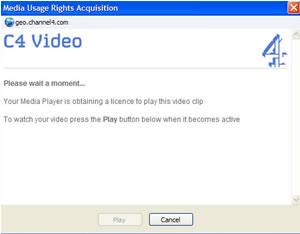 Clicking Yes takes you to yet another Web page, grandly entitled License Acquisition. Here you're requested to login _again_.
Once you've bashed the keys in the right order, you're requested to "wait a moment," as the licence is "obtained". Eventually you're offered to click the Play button.
Finally, finally you get to the steam.
That's bad enough to do once, but adding insult to injury, the worst of it is that each and everytime you want to watch a stream, you've got to go through this bullshit.
Summary – DRM Don't Work
From the experience above you can see that the current version of DRM – Microsoft's naturally – just doesn't work for the consumer.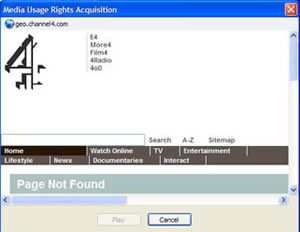 It's not from lack of trying on their part either, Microsoft have been plugging away at their DRM solution for many years and, we have to assume, this is their latest as to get to view the streams, there's a requirement to 'upgrade' your Windows Media Player to the latest version.
We also have to assume that Channel4/Endemol and Microsoft worked together to get the Big Brother streaming working. Say what you want about Big Brother, but it's a high profile TV 'event', so important for them to have it working correctly.
Even after all of this effort, the end user experience is truly atrocious, so bad, that you feel anger every time to access the stream, and let's not forget, people are paying for the privilege of being insulted like this.
With the difficulty of this process, it's no wonder that people still try to get their content from file sharing networks to avoid DRM.