Still in beta but already a big hit in the Digital Lifestyles office is the Walkit.com website, a mapping site designed for perambulating pedestrians keen to do their bit to fight global warming.
Currently covering a large chunk of London, the site helps walkers plot cross-town journeys in a similar fashion to London Transport's Journey Planner.
Users simply type in the postcode or street name of their start and end points and a zoomable street map (based on Streetmap.com) is generated, with the walking route clearly marked in blue.
If the user hasn't been specific enough with their addresses, the interface offers up a list of more precise locations, including road intersections.
Burning the lard
Once you've generated your walking map, an information strip tells you the total distance and how long it would take to complete the journey at slow/medium/fast walking rates.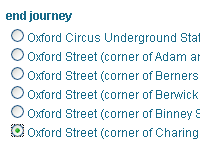 Folks still battling a post-Christmas beast of a belly might find the column displaying how many calories you might expect to burn depending on fast you're shuffling along useful.
According to their data, a fast walk from Brixton to Oxford Street would take 65 minutes and burn 347 calories – less than the calories in the two pints of Stella we'd need to drink to recover.
'The Good Life'-loving, Tom and Barbara types can also feel extra smug checking out the 'Co2 avoided' column, which lists how much carbon dioxide the same journey would have created by car, taxi or bus instead.
Nearby tube and rail stations are also included onscreen as well as options to print the map, print or view written directions and email the route to a friend.
Clicking on the written directions automatically centres the map on that location, which is rather a nice touch.
Currently the system only produces the most direct route, rather than the 'nicest' route and the tech bods at walkit are looking into ways to include some pedestrian-only routes across parks, by rivers etc.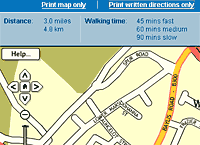 Another thing missing is the ability to plot routes involving multiple points: it would be great to plan an afternoon's walking and have an instant readout of the miles walked and calories burned – and if there was a version that could be carried around on our Palm Treo, all the better!
Ken don't care
Launched by a "tiny outfit" motivated by a desire to get more people walking, the walkit.com team deserve all the support you get, and with their much-publicised green agenda, you'd think ol' Ken Livingstone, Transport for London and the Labour spin team would be scrambling to get onboard.
Sadly, that doesn't seem to be the case with a faceless 'Senior Customer Services Adviser' at TfL only commenting that it would be, "counter-productive to invest public money in another journey planning tool specifically for walking".