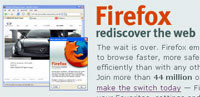 The open source Mozilla Firefox browser enjoyed a whopping increase of nearly 50% during 2006, according to Web measurement firm, Net Applications
Fuelled by the release of Version 2.0 in October, the freebie Firefox browser registered a massive rise in usage last year, bumping its market share to 14% of all computers online at the end of 2006.
This marks a 46% increase on its 9.6% share of the browser market at the beginning of 2006.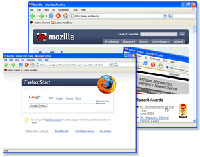 For every winner there has to be a loser or two, and in this case it was Microsoft, who saw their market share slump to 79.6% from 85.1% at the start of 2006, despite the release of an update to Internet Explorer last year.
AOL's Netscape also ended up feeling like a chump, with their market share slipping from 1.24% down to a teensy weensy 0.9%.
Flying high on Apple's increased sales throughout the year, the Mac Safari browser rose up to grab 4.2% of the market, up from 3.1% at the beginning of 2006.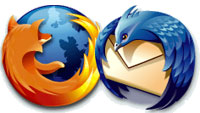 Elsewhere, Opera grew its share to match Netscape, up from 0.6% at the beginning of the year.
Much of Opera's growth has come through partnerships with mobile phone and game console makers (such as Nintendo), striking deals to bundle the browser with their devices.
[From Computerworld]