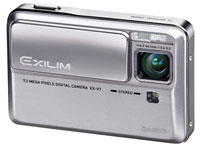 Skinnier than an anorexic stick insect in need of a snack, Casio has unveiled what it claims is the "slimmest digital camera with a 7X optical zoom lens" in the known universe, the Exilim EX-V7.
Launched at CES yesterday, the wafer slim (we're talking 25.1mm) 7.2 megapixel camera comes with a proper anti-shake system, Auto Tracking AF, MPEG movie recording and a substantial 38-266mm equiv. optical zoom.
Featuring a Sony-like sliding lens cover, the slimline Casio (59.8 mm high, 95.5 mm wide, and 25.1 mm thin) looks pleasing to the peepers, with the design managing to wedge in a non-protruding 7X internal optical zoom lens.
With cheeky manufacturers like Fujifilm and Samsung busily trying to fob off ISO boosting tricks as bona-fide "anti-shake" systems, it's good to see that Casio has fitted the EX-V7 with a real CCD shift system, which mechanically compensates for wobbly pictures.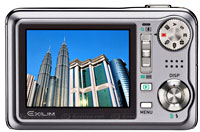 This is backed up by some software wizardry which works out the speed and vector of a moving subject and then sets the most appropriate ISO sensitivity and shutter speed automatically.
There's also Anti Shake DSP onboard and electronic camera shake compensation for reducing blur when shooting in movie mode.
Powered by a new EXILIM Engine 2.0 image processor, the Exilim EX-V7 incorporates an Auto Tracking AF function for keeping moving subjects in focus, and a natty feature letting snappers selectively eliminate noise in designated colour regions (like the sky).
The EX-V7 can also knock out high quality videos ( 848 x 480 @ 30fps) using the efficient H.264 video encoding method, with support for optical zooming while recording movies in stereo sound – a nice touch seeng as most cameras can only offer a clunky 'digital zoom' in movie mode.
Ready and willing to lavish praise on his own product, Bill Heuer, Senior Vice President of Casio's Digital Imaging Division said, "It's an exceptionally portable, great-looking digital camera with a powerful zoom lens just what the world has been waiting for."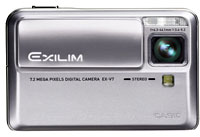 The EX-V7 comes with a 2.5-inch, 230k LCD screen, a max sensitivity of ISO 1600 (in High Sensitivity mode) and can take around 240 shots on a single charge of its Li-ion battery.
The camera is compatible with SD, SDHC, and MMC memory cards. Pricing and availability to be announced.
Casio Exilim Hi-Zoom EX-V7 specifications
Sensor 1/2.5 " Type CCD., 7.20 million effective pixels
Image sizes 3072 x 2304, 3072 x 2048 (3:2), 2560 x 1920, 2048 x 1536, 1600 x 1200, 640 x 480
Movie clips with WAV audio
848 x 480 @ 30fps
640 x 480 @ 30fps
320 x 240 @ 15fps
File formats JPEG Exif V2.2, DCF, DPOF, Motion JPEG AVI
Lens 38-266mm (35mm equiv), 7x optical zoom, F3.4 – 5.3
Image stabilization CCD shift system
Conversion lenses No
Digital zoom up to 4x
Focus Contrast Detection AF, Macro, Infinity, Manual, AF area modes, Spot, Multi, Tracking
AF assist lamp Yes
Focus distance AF: 30cm – infinity, Macro: 10-40cm, Manual: 10cm – infinity
Metering Multi-pattern, Centre-weighted, Spot by imaging element
ISO sensitivity Auto, ISO 64 -ISO 800, ISO 1600 (using BEST SHOT High Sensitivity mode)
Exposure compensation +/- 2EV in 1/3EV steps
Shutter speed Program AE: 1/2 to 1/800 sec
Aperture Priority AE: 1 to 1/800 sec
Shutter Speed Priority AE and Manual Exposure: 60 to 1/800 sec
Aperture F3.4 / 4.6 / 9.2 auto switching
Modes Program AE, Shutter Speed Priority AE, Aperture Priority AE, Manual exposure, Continuous, BEST SHOT
White balance Auto, 6 fixed modes, Manual
Self timer 10 or 2 sec, Triple Self-timer
Continuous shooting n/a
Flash Auto, On, Off, Soft Flash, Red-eye Reduction
Range: 0.1 – 2.8m (wide) 1.0 – 1.8m (tele)
Rapid Flash Range: 0.4 – 2.1m (wide) 1.0 – 1.4m (tele)
Viewfinder No
LCD monitor 2.5-inch TFT, 230,400 pixels
Connectivity USB 2.0 Hi-Speed, USB Cradle Connector
Storage 11.6MB internal memory, SDHC / SD / MMC card compatible
Power Rechargeable Lithium-ion battery NP-50
Weight (no batt) 149 g
Dimensions 95.5 x 59.8 x 25.1 mm
[Via DPreview]