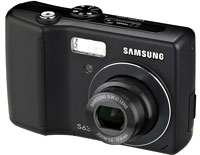 Samsung have gone new-camera bonkers, unleashing a veritable pack of seven new snappers, all set to be hitting the shelves this Spring.
Ranging from 6 megapixel budget specials up to 10 megapixel style statements, the new collection underlines Samsung's ambition to become a big bangin' and crashin' noise in the digital camera market.
They're looking to tempt punters with keen prices too, with all of the announced cameras selling for less than $350.
Top of the range S1050
Sitting right at the top of the price range, the $350 10-megapixel S1050 comes with a beefy 5x optical zoom lens, a sizeable 3″ LCD screen, a top shutter speed of 1/2000s and a high ISO rating of 1600 for low light photos.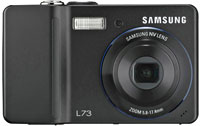 Rather a sleek and seductive number in an all black finish with a saucy blue trim, the S1050 delivers impressive video functionality, managing to record movies up to 800 x 600 at a baby's-bum-smooth 30fps.
The near-identical looking $249.99 S850 also packs a similar spec sheet but with a smaller 2.5″ LCD screen and a smaller 8-megapixel sensor.
Sporting Samsung's groovy Smart Touch interface, the pocketable L73 ($249.99.) offers 7 megapixels, 3x optical zoom lens, a 2.5″ LCD screen, 1/2000 secs top shutter speed and high ISO 1600 rating.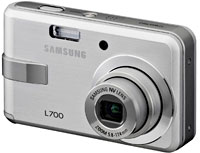 First seen in last year's NV series, the Smart Touch widget lets users twiddle about with settings and camera controls via two sets of pressure-sensitive buttons. We've not tried it yet, but in a world of identical cameras, we like it when companies try something a little different.
Not shaking all over
All of the cameras come with the fab-sounding Samsung's ASR (Advanced Shake Reduction) system, which sounds like it'll cancel out major earthquakes, but in fact just boosts the ISO (and therefore the noise) rather than offering a proper stabilisation system. Which is a bit rubbish, if you ask us.
Shuffling down to the cheaper end of Samsung's offerings is a trio of snappers, the 7-megapixel L700 ($249.99), the 7-megapixel S730 ($199.99) and the 6-megapixel S630 ($179.99), all featuring 3x optical zooms and 2.5-inch LCD screens.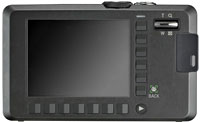 Making up the septet of new snappers is the curious-looking i70, a multimedia-packed little fella with a sliding cover offering a
7.2 megapixel sensor, 3x zoom and a large 3.0″ LCD.
Doubling up as a Portable Media Player/MP3 player, the i70 is fitted with with Samsung's Intelligent Face Recognition Technology (we could use that on weekends after we've had a few). Pricing is still to be announced..
Wisdom
The entire range will feature Samsung's new "Wise Shot" feature, which doesn't call up a clever owl for advice before each shot, but knocks out two pictures consecutively.
The first photo is taken with the flash doing its thing, while the camera turns off the flash for the second shot and sends ISO soaring skywards to minimise blur from camera shake.