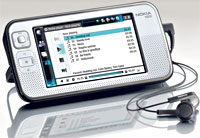 Nokia has announced an update to their 770 Nseries widget in the shape of the Nokia N800 Internet Tablet, which comes decked out in a natty industrial chrome look.
Sporting a high resolution display, Nokia say that the tablet has been "optimised for enjoying the familiar Web experience anytime, anywhere," and comes with support for internet calling, instant messaging and email.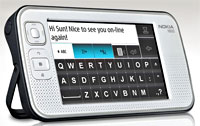 Naturally, the thing's stuffed full of multimedia gadgetry with stereo audio, media support and the ability to enjoy streamed content as you amble around your Tower Hamlets bedsit Hollywood-like mansion.
Boasting faster performance than its predecessor, the N800 comes with a full screen finger QWERTY keyboard (but not a proper pull-out hardware keyboard), easier connectivity via Wi-Fi or a Bluetooth phone, an integrated web camera packed up into a sleek new streamlined design.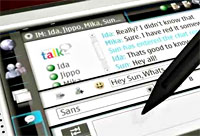 Software wise, Nokia are claiming "Internet enhanced navigation" with Navicore, support for RealNetworks' Rhapsody music service and a deal with Skype to let users make Internet calls from Nokia N800s. They added VoIP support to the 770 back in May last year. It was GTalk at the time.
"As the Internet becomes an ever more integral part of daily life, Nokia
N800 has been designed to offer quick and convenient access to your favourite Internet services regardless of location," insisted Ari Virtanen, Vice President, Convergence Products, Multimedia, Nokia.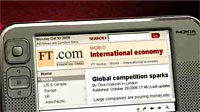 "The Nokia N800 takes our offering to the next level combining speed, performance and mobility into a stylish, compact design," he added, nearly running out of superlatives.
The Nokia N800 Internet Tablet runs on Nokia's desktop Linux based Operating System and should be available immediately in the US and Europe for around 399 EUR/USD (around 250 quid).