If you've ever needed information fast from the Web when you're on the move, Genius! by Hobbyist Software could be just what you're looking for.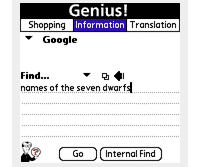 Designed for Palm Treo 600/650/680/700p users, Genius! gives you fast access to mobile-optimised sites, via a tabbed interface offering, 'information,' 'shopping' and 'translation' categories.
So if you're out shopping and wondering if the pushy salesman really is offering you a bargain, you can just type in the product name (or product code, title, ISBN or brand) into Genius! and choose a price comparison site from the dropdown menu.
Pressing 'go' will open up a page full of results from the appropriate mobile optimised Website, saving you the hassle of opening up the Palm's browser, looking for the right site, typing in the product name and then waiting for the results to download.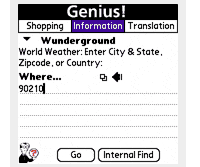 Devious cheating pub quizzers will like the 'information' tab which will quietly send your question to fact-filled sites like google, wikipedia and answers.com and bring up a Webpage with the answer already showing.
The interface also offers nippy, direct access to translation Websites, stock quotes, weather, directions and local info, with downloadable 'plugins' letting users customise the program to their preferences.
A bookmark management tool lets users edit and delete bookmarks with the option to select Google Optimiser to return results in a format enhanced for small screens.
Although it's not one of those programs that is likely to change your life, power users regularly accessing the Web via their Palm Treos may find this an invaluable addition to their handheld – and at around a fiver ($9.99), it's well worth a punt.
Features: 80%
Ease of use: 80%
Value For Money: 85%
Overall: 83%
Genius! by Hobbyist Software