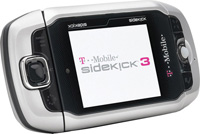 T-Mobile UK has announced the launch of the T-Mobile Sidekick 3, the number one accessory for users who can't get enough of email and instant messaging on the move.
Already a huge hit in the States, the pocket-filling 131mm x 59mm x 23mm (5.2″ x 2.3″ x .9″) Sidekick comes with a flip out display which displays a full QWERTY keyboard and a large 65k colour, transflective TFT display supporting a 240×160 pixel resolution.
Sporting a trackball that lights up like a Christmas tree, the phone also packs a 1.3 Megapixel digital camera with LED flash and a media player for MP3 playback, supported by a mini-SD card slot for storing up to 2GB of music and party photo files.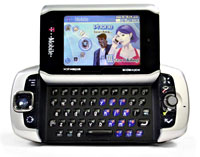 Jet-setting socialites will appreciate its tri-band support (850/900/1800MHz), enabling them to keep up their vital text messaging on both sides of the pond, with EDGE offering extra nippy Web surfing.
The phone offers MSN Messenger, Yahoo! Messenger and AOL Instant Messenger connectivity, with support for up to 10 simultaneous active IM conversations. Perfect for teenagers!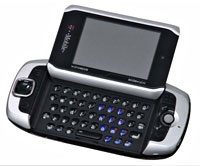 The GSM Sidekick also comes with Bluetooth connectivity 1.2 for wireless headsets and vCard transfer and 64MB of SDRAM/64MB Flash memory.
The Sidekick is being offered with T-Mobile's excellent web'n'walk unlimited data tariff for £7.50 per month in addition to a voice plan.