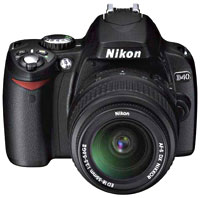 Rock Bottom: Nikon D40 £400 (with lens)
Buy it at Amazon UK, or US
Nikon's new D40 offers astonishingly good value for money, with UK stores selling the camera – complete with a 18-55mm f/3.5-5.6G ED zoom lens – for a measly £400. For a dSLR!
Designed for ease of use, the petite 6.1 megapixel snapper offers three-area autofocus, a bright 2.5″ LCD screen, and comes with eight Digital Vari-Programs (including Auto Flash Off, Portrait, Landscape, Child, Sports, Close-up and Night Portrait ) as well as a fully Auto setting for clueless point'n'shooters.
Despite it being at the bargain basement end of Nikon's range, the D40's a respectable performer, mustering a near-instant 0.18s start-up time and a nippy 2.5fps continuous shooting.
The Nikon also sports a wide 200-1600 ISO sensitivity range, and comes with in-camera editing tools for retouching and enhancing images.
Of course, at this ridiculously low price something had to give, and in this case there's no mechanical focus drive pin, meaning that it can only autofocus with AF-S and AF-I lenses (which have built-in focus motors).
Many will view that a small compromise for the superior handling, versatility and speed that a dSLR gives over similarly-priced digital 'bridge' cameras, making this a hell of a lot of camera for the price.
Full review: DPreview
Buy it at Amazon UK, or US
Other options: Nikon D50 £325 (body only)
Buy it at Amazon UK, or US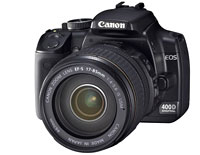 Budget: Canon EOS E400D (£500 body-only)
Buy it at Amazon UK
Competition is fierce around the half-grand mark, but Canon's new E400D has just enough features to make it our choice at this price.
Boasting an lightning fast auto-focus system and nippy evaluative metering, the E400D is capable of great results, with the Integrated Cleaning System (featuring anti-static coatings, anti-dust materials and ultra-sonic vibration) keeping the gunge out of your shots.
The ISO range runs a useful distance from 100-1600, with a 30secs – 1/4000 shutter speed range.
It's pretty small too, making it a great compact, go-anywhere camera and a fine introduction to the Canon range.
Full review: DPreview
Buy it at Amazon UK
Other options: Sony Alpha 100 £550 (body only)
News
Buy it at Amazon UK, or US
Pentax K100D £500 (body only)
News
Buy it at Amazon UK, or US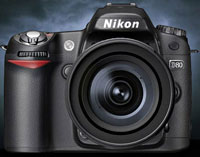 Enthusiast: Nikon D80 (£600 body only)
DL Review
News
Buy it at Amazon UK, or US
Offering many of the attributes of the pricier D200, the D80 comes with a 10.2 megapixel sensor, a shutter range from 30secs to 1/4000 and a 100-1600 ISO range (up to ISO 3200 with boost).
A sophisticated 3D color matrix metering system backed by 11-area AF system churns out pin-sharp, perfectly exposed shots, with the solidly-built camera adding to the impression that this is a 'can-do' camera.
Add to that a vastly improved user interface, instant power-on, customised settings and a big, bright viewfinder and you've got the perfect choice for enthusiasts or budget-minded pros.
We liked it so much, we went out and bought it!
DL Review
News
Buy it at Amazon UK, or US
Other options: Olympus E-400 (£700 with Zuiko 14-42mm zoom lens)
News