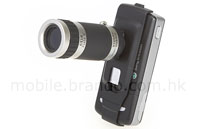 We can always rely on our gadget-fruitcake chums at Brando to dream up a thoroughly daft gizmo or two, so we were delighted to find that they've just released a 'Mobile Phone Telescope' for Sony Ericsson phones.
Available for Sony Ericsson K750i, W800i, W810i and W5500i/W600i phones and a host of Nokia phones (see below), the Mobile Phone Telescope costs just $19 and offers, "higher visual acuteness, good for color reduction," whatever that means.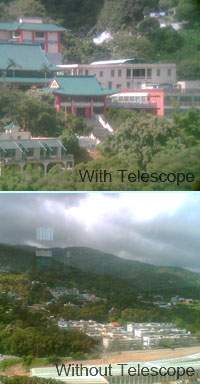 According to Brando's site, users first have to manually focus with the unattached 6x lens, and then clip the lens onto a Sony Ericsson handset using the included lens mount (unless the image is clear enough on the camera's screen to focus accurately).
The lens comes with a black barrel and a choice of silver or black bands as well as a carrying strap, although anyone hoping to take discrete long distant shots will have to think again, as the lens is quite a hefty affair that is likely to attract the attention of passers by.
We suspect that Patrick Moore fans looking to spot the distant arc of Europa gliding gracefully around Jupiter may be disappointed with its zoom range, but it looks like a great bit of fun for the asking price.
The telescope is also available for the Nokia N70, N72, 6230, 6230i, 6680, 6600, 6630, 7610 and 6681 phones.