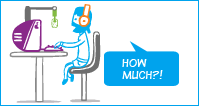 While announcing the release 3.0 of their VoIP software, Skype have unveiled the US Unlimited Calling Plan.
Don't panic – this doesn't affect Skype to Skype calls, but calls to US landlines and mobile.
The offer to US Skype users is $29.95 per year. Those who sign up for the new plan before 31 January 2007 will get it for half price – $14.95 per year. Pay per call SkypeOut will continue.
Skype will be sweetening the deal further by giving 100 minutes of SkypeOut credit for making International calls and over $50 in discount coupons for purchasing Skype-certified hardware products.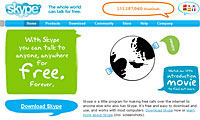 Those Europeans who are surprised that calls to mobiles are included, should know that in the US owners of mobile pay to receive calls, so callers don't pay extra to make them.
Until now, calls to landlines from Skype have been paid on a per calls basis, whenthey're not offering free calls for a limited period which ends at the end of this year.
Skype are really doing rather well, with claims of over 11m Skype users, way in excess of any other VoIP services.