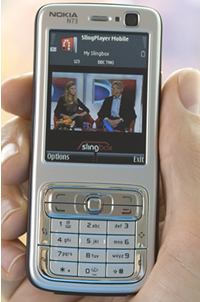 The first time Nokia told me that they no longer sold mobile phones, but multimedia computers, I scoffed. How can anything that you speak on while moving be anything but a mobile phone? You talk, you walk. Anything else is a handy extra, a camera to snap while you're at a gig or a site to browse for train times when you're in a hurry.
But when I picked up the X-Series Nokia N73 phone from 3, everything became clear. Because it's simply not accurate to call this device a mobile phone any longer. The N73 is, in essence, a powerful 3G handset that uses a variety of technologies to perform a variety of tasks using a variety of services. And if that sounds woolly and imprecise, welcome to the 21st century.
The hardware
Let's start with the hardware – arguably the least interesting aspect of the package. The N73 is part of Nokia's multimedia N-series, and so boasts a pin-sharp 2.4-inch screen, 3.2MP camera, media players, stereo Bluetooth, office software and more. It's simple to use, less bulky than the photo-mad N93 (home to an optical zoom) but more than capable of dealing with everyday photos, files, songs and videos.
It lacks the Wi-Fi aerial of the business-focused N80 – but then it really doesn't need it, thanks to 3's innovative X-Series web pricing. This offers all-you-can-surf web access via 3G for a price of £5 a month on top of any 12-month or longer contract. That represents stunning value for money when compared to traditional networks, and is still a few quid less than T-Mobile's generous £7.50 Web 'n' Walk monthly cost.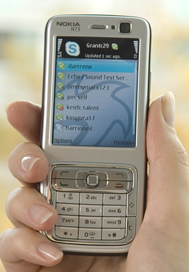 Using Skype On The X-Series
Above and beyond that, the hot news is the packages that the N73 comes pre-loaded with: Skype, Yahoo Go!, Mobile Mail, MSN Messenger and, for another £5 per month, Sling and Orb. The revolutionary package is, of course, Skype. The world's most popular VOIP application earns one-touch access from the home screen and has been well optimised for the mobile platform. You can sign in with your normal Skype name to see your usual contact list, or create an account there and then. My phone had to download an update (less than a minute) and then plough through a variety of disclaimers and permissions – basically absolving 3 of any responsibility for you trying to call the emergency services.
Refreshing and adding contacts is all very easy and making a call is utterly intuitive: simply select a contact and hit the dial key. Voice calls sounded compressed but comprehensible. The usual Skype delays on the line are more pronounced than with a PC, but you do feel the benefit of a genuinely well-engineered speaker and microphone instead of the usual cheapo VOIP headsets. The current version works only with other Skype accounts, although 3 promises the ability to Skype Out (calls to any real phone number, globally, charged at pennies a minute) in 2007.
Incoming calls don't specify which contact is calling, relying instead on a generic 'Skype Service calling' message. And Skype chat doesn't work either, although your contact does receive a message encouraging them to call instead. Running Skype on your computer and phone simultaneously doesn't cause any problems either – both devices will ring and you can simply answer whichever you choose. If you do want to IM, the pre-loaded MSN and Yahoo Messenger software seem to work fine.
Slingbox – TV on your X-series
So why would you upgrade from the Silver package (£5/month extra) to the Gold (£10/month?). The key offering here is the Slingbox, which you can buy at a discounted price of £99 (it's usually about £150). This connects to your TV or set-top box and fires video over your domestic broadband service to the X-Series handset (or a laptop) running the SlingPlayer software. Unlike other mobile TV services, this is actually streaming your very own telly signals, so if you've got a Sky box, for instance, you'll be able to watch exactly what's showing on your TV at home, be it BBC One, Premiership footie or a 'specialist' subscription channel.
However, it's worth noting that the Slingbox can be a real pig to set up. If you have a complex broadband set-up with multiple routers, you'd better be good at port forwarding and hacking your router configuration or you'll soon be pulling your hair out. If you can get it to work, video quality is pretty good; detailed enough to read the info bar on Sky broadcasts for instance. Sound is below average and can be quite harsh and glitchy. Unfortunately, you're limited to portrait format display, leaving massive empty bands above and below the images – why no landscape option to make full use of that great screen?
Menus give access to your home device's basic features (power, channel and volume, menu etc). I was disappointed that I couldn't access recorded shows on my Sky HD box because the SlingPlayer lacks virtual red/green/yellow/blue buttons. This would be a key selling point, widening the video service from live TV to my entire hard drive. Note that the Slingbox is happy to sling (resized, compressed) HD signals out to your phone.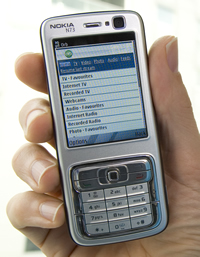 Accessing your PC using OrbPC
Supposedly, you need to sign up to the Gold service to use PC-away-from-home service Orb, although I've been using Orb on a Wi-Fi phone for some time and can't see why normal web access to Orb wouldn't work perfectly well. If this is a driver for you, check out the Silver package first. Orb allows you to view (read-only) the contents of various folders on your PC's hard drive, giving access to your photos, videos and MP3 tunes, for example, and even files in your My Documents folder. It's great for finding those essential business documents or staging impromptu holiday slideshows, without taking up memory space in the phone itself. The interface is a little flaky but normally gets there in the end.
On top of all this, of course, you've got full, free web access. The browser from 3 modifies pages to look 'better' on the Nokia's small screen. This devastates design but (usually) improves legibility. You'll either love or hate this but it's well worth trying before you buy given that you'll be using that interface an awful lot.
Conclusion
Overall, this is a really interesting device. The web access alone represents tremendous value and the pre-loaded, generally hassle-free applications only make it more attractive. However, there's no denying that as it stands the X-Series is a tremendously geeky offering. Skype sounds better than it sounds, if you get my drift, although it'll soon pay off if you regularly call abroad. Slingbox is fun but sluggish and over-complicated to set up – and battery life is bound to suffer.
Make no mistake, the X-Series is the future. Whether we're ready to take the giant leap forward that it represents yet is another question entirely…
Score: 89%