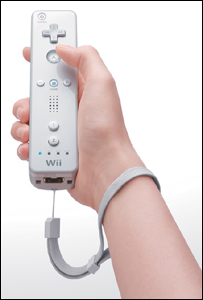 There's been quite a few stories flying around the Internet that Nintendo will be recalling 3.2m Wii remote safety straps.
We've been contacted by Nintendo to clarify the situation. They tell us that a _very_ small number of Wii remote straps have broken. How small? Well, they claim it's 0.001% of the machines they've sold.
When we asked where the 3.2m figure came from, they said that it was unclear and they're trying to trace the source.
If there have been breakages, they suspect that it's been down to unusually active playing. It makes us think that if people are using their controllers that violently, they must be pretty passion game players.
Despite their view that their isn't a problem, they're offering an exchange service for those who are worried about their straps. UK owners should either contact them through wiiwriststrap@codestorm.co.uk or on 0870 60 60 247.
They're also passing on the "useful" tips for "safe play"
Always wear the wrist strap while playing.
Keep a firm grip on the Wii Remote at all times.
Make sure people and objects are out of the range of movement before play begins.
Players should keep at least three feet/ one meter from their televisions and dry their hands if they become sweaty or wet for any other reason.
Remember that the Wii Remote is responsive enough to detect minor movements – so excessive and forceful actions are not necessary. Therefore we recommend not to use excessively rapid, violent or wide swinging motions while using the Wii Remote during game play.
All new Wii machines will be shipped with the new-style strap, which Nintendo say is to alleviate the fears of the public..