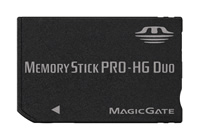 Sony are expanding their range of Memory Sticks further by adding the "Memory Stick PRO-HG."
In a further collaboration with SanDisk, they're increasing the available speed of transfer to a theoretical 480Mb/s, a significant step up from the previous 160Mb/s of the Duo. It's no coincidence that 480Mb/s is the theoretical top speed of USB2.
The technical key to this, is the expansion of the interface from 4-bit to 8-bit and the increase of internal clock frequency from 40MHz to 60MHz.
The thinking behind the increase of transfer speeds is the consumer demand for media and that media itself is growing in size as its resolution increases. As with all technology, the consumer is impatient for speed, so not waiting for data to be written to the memory card is key. With this increase in transfer speed, a couple of gigabytes of data should be transfered pretty rapidly.
They plan for the PRO-HG to have a capacity of 32Gb, but there's a slight caveat with this one. While the design will allow for this, Sony says that it does "not guarantee that Memory Stick PRO-HG 32 GB media will be introduced to the market." Depends on the demand and price of production, we assume.
The PRO-HG will be compatible with Memory Stick PRO devices, although transfer speeds will be stepped down to the PRO.
Unsurprisingly the PRO-HG will feature content protection, which it's not surprising to hear will continue to be MagicGate, Sony's previous incarnation.
While the range of Memory Sticks has lived longer than many competing formats (it was initially announced in 1998), many consumers feel confused by the number of differently named products – Memory Stick, Memory Stick Duo, Memory Stick PRO, Memory Stick PRO Duo and Memory Stick Micro (M2). The addition of another type will only add to the muddle. While this may be the case, it clearly hasn't held people back in buying them, as they've shipped over 200 million of the little blighters.
Sony expect to launch it in 2007 – pretty vague huh? One reason for the vagueness is Sony is only starting to license the development of compliant host devices from January 2007.
Memory Stick PRO-HG Specification.
Major Specifications of Memory Stick PRO-HG

Dimensions

Duo size (31 x 20 x 1.6) mm

Connector Pin

14-pin

Capacity

32GB (format maximum) *4

Max. Data Transfer Rate

480 Mbps (theoretical)

Min. Write Speed

120 Mbps *1 (As of 8-bit parallel transfer)
40 Mbps *1 (As of 4-bit parallel transfer)

Operating Voltage

2.7 to 3.6 V

Interface

8-bit / 4-bit parallel I/F and Serial I/F

Max. Clock frequency

60MHz *5

Copyright Protection Technology

MagicGate