BT are pushing BT Digital Vault, their product to store all of your digital data on, to that end they've just launched a Web service to calculate the value of your digital output.
The site lets you enter the number of music tracks, photos and videos that you have and attach a 'sentimental value' to each format.
We threw a few numbers into it and it tells us the total monetary value of our digital doodlings is £3,490.
We're confused as to how they've come to attach these arbitrary values to the various bits of media – Music tracks – 79p; Photos – 10p; Videos – £12.
The music pricing is based of the costs of tracks on iTunes. The other two? Photos based on BonusPrint.co.uk and films, Lovefilm.co.uk.
Frankly the valuation service is a bit hollow – but may draw attention to the fact that people don't have a backup.
Backup your data
Our view is that you cannot attach a value to the photos of friends and family that you have – they can never be replaced, so we're all for people looking after their data. BT's Digital Vault is one way of doing this.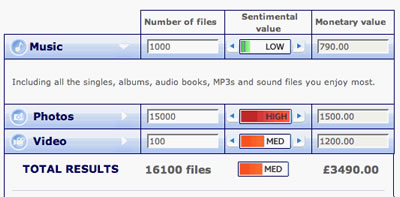 One of the major advantages of an online backup service is you are protected against fire in your home, that may well wipe out backup that you hold at home.
BT offer a free service, the 'Basic,' which lets you store up to 2Gb of data, but you have to manually copy the data up there. With a price like that, why would you refuse? You'll need to sign up for the service before 8 Jan 2007, after that you'll only get 1Gb.
The pay-for service is £4.99/month, but gives 20Gb of storage and an automated backup manager. It's this that provides the essential feature of any backup system – the ability to not to have to think about it – your data just gets backed up. Sadly the software only works on PCs though.
BT are far from unique from offering this, as there are many other services around.
Other services
One example that has been running for very many years is Iron Mountain Connected Backup, or connected.com as it used to be. Back in our PC days, we used the service on a daily basis as it was just so simple of use – the backup occurred automatically as the machine was shutting down. Prices range from $10 – $75/month for their 30Gb service.
When you look at the amount of storage BT offers for its price, it looks quite a bargain against the Connected Backup.