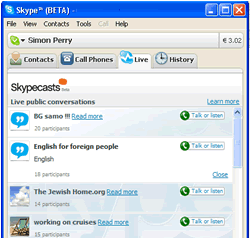 Skype has made public its Beta 3.0 version of it super-popular VoIP software for Windows. It's been sitting with NDA's beta testers for just over a week now. Skype has also hit 8 million simultaneous users online today.
There's a few changes, but we're not sure that there's been enough to justify a whole version number upgrade.
One of the most interesting additions is the ability to click-to-call any landline phone number that you see on the Web (once a small browser plug-in ins installed), by placing a call through your SkypeOut account.
Henry Gomez, Chief Marketing Officer & Director of Worldwide Operations, Skype, gave an example of how it might be used, "imagine you're searching online for a good place to eat and you find a restaurant and want to make a reservation. All you need to do is click on the number and you can make a direct call using SkypeOut."
As ever with each Skype release, there' been more adjustments made to the software interface. Amoung other changes is another main tab, called "Live," which gives quick access to the Skypecast feature – giving real-time chats (IM and VoIP) to up to 100 people) – which has been around for quite a few releases.
By including the Live tab so prominently, Skype are attempting to make people become more dependent on Skype, beyond using it for 'just' communications, they're hoping people will use it for 'entertainment.'