Video howto site VideoJug has signed a deal with UK tabloid, The Sun, to provide ten video clips to them weekly.
This will be a big traffic boost for VideoJug who has been publicly available for the last two and a half months.
The owners of The Sun, Rupert Murdoch, has been embracing video and bring it together with his other publications like MySpace is now well known.
Background on VideoJug VideoJug's strap line is Life Explained on Film and have been labelled "YouTube for HowTos," and was launched in August.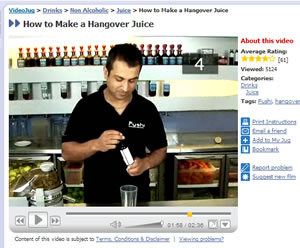 Much of the production of the video is carried out in Spain where they aim to produce up to 500 clips per month. They are also soliciting members of the public to upload their videos to add to the pile.
The clips cover from the useful (How to Make a Hangover Juice) to the frivolous (How To Pull A Tablecloth From Beneath A Dinner Service). They can be viewed either from the VideoJug site or downloaded to portable video players like iPod or PSP.
One neat addition to other services is the option to print out instructions.