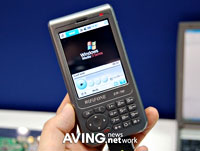 Currently causing something of a stir on the floor of the Korea Electronics Show is the WiFiFone EW-700, a Wi-Fi-enabled VoIP smartphone running Windows Mobile.
The all-black phone is a collaboration between Samsung and Korean, big-name cordless phone maker Eidicom, and sports a slightly unusual keypad layout, with navigation controls sat in the left hand corner of the handset and the phone keys shunted to the right.
This leaves the 'call' and 'answer' buttons in the bottom left hand corner of the handset which seems far from ideal to us.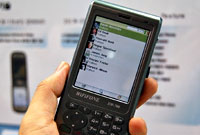 The EW-700, looks a fairly plain, clunky beast too – in fact the photos we've seen have something of a pre-production air to them – but it's not short of features.
The phone offers Samsung's latest "Post-PC mobile multimedia processor", an "embedded OS/Device driver," web browser, Instant Messaging and an MP3 and video player keeping customers entertained. We figure there must be some kind of memory card expansion available, but seeing as all the pics released so far only show the front of the camera, we can't be sure.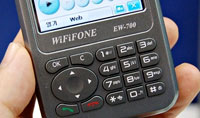 We're yet to get full specs either, but the screen looks like a 320 x 240 pixels jobbie to us, and there's also a 2-megapixel camera with camcorder function onboard, a voice recorder, hardware MPEG engine offering full frame video and Wi-Fi and infrared connectivity.
As for pricing and availability, we haven't the foggiest right now.
[From Aving USA]