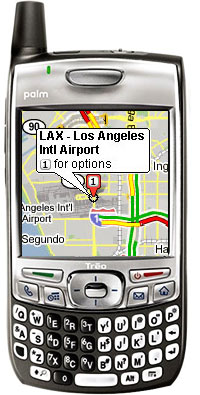 Although it was announced as part of the forthcoming Palm Treo 680 smartphone package, Google has already made its Google Maps application available for free download.
Described by Google as being, "months in the making," the company describes the 425k download as "the fastest, slickest version yet" of their mobile-optimised Google Maps application, offering real-time traffic reports, detailed directions, integrated search results (search for cafes/bars etc and get addresses and the option to call them with one click), fast downloading detailed, draggable maps and even satellite imagery.
Installation
Installing the Google Maps was easy enough, we just pointed our Treo browser to google.com/gmm and downloaded the program over the air. Users can also download the program from to their PC from http://www.google.com/gmm/treo and then hotsync the file over to their handheld in the usual way.
We ran Google Maps from our SD card with no problems.
Looking up locations
Loading up the program, we were prompted to type in an address (or ZIP code, postal address, latitude and longitude, intersection etc) and we were astonished by the speed that the map appeared on screen – even though we were connecting via GPRS. This baby is fast!
The maps download as small, separate tiles, so only new segments need to be downloaded as you were scroll across pages using the Treo's five-way controller, or by dragging the map across the screen.
Overlaid, opaque zoom in/out buttons let you decide the level of detail, and a 'find nearby business' menu gives you the option to search for local hotels, cafes, bars etc with the results appearing onscreen as numbered markers.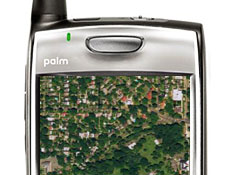 Clicking on an icon provides more address information and a button to phone them up, as well the ability to get turn by turn driving directions to and from any given point.
Best of all, downloaded maps are stored locally, so you can look up the area you're visiting and have the map ready for viewing – even if you can't connect to the web.
A minor niggle is that there's no option to store downloaded data on to the Treo's memory card, so stored maps burn up precious internal memory, but you can at least chose to delete all data on program exit.
Traffic updates
With Google Maps you can call up comprehensive information on traffic conditions in more than 30 U.S. major metropolitan areas (with partial information available for other states) with the driving directions offering traffic estimates to avoid congestion.
Highway traffic speeds are represented by different colour overlays (green for traffic flowing at over 50mph, Yellow for 26-50mph etc), and you can download satellite maps for onscreen maps.
You can search and view UK locations, but there's currently no local business or traffic information available, although Google says it's working to increase availability.
Conclusion
Google Maps is a truly remarkable product that adds near GPS-like functionality to the entire range of modern Palm OS Treos (700p, 680, 650 and even the venerable Treo 600 smartphone) – and all for nothing!
Of course, it won't be able to tell you where you are, but so long as you can find a street sign, you'll be able to nail your location, download local maps, locate and call up nearby shops, businesses and bars and even get traffic updates and satellite images.
It's easily one of the best products we've ever reviewed for a Palm phone – any smartphone, in fact – and it's a 'must have' application for map fans, travellers, amblers and business users alike. And it's free, Goddammit!
Features: 90%
Ease of use: 90%
Value For Money: 95%
Overall: 95%