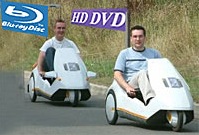 The almighty ruck between Blu-ray and HD-DVD could have found a bridge for the consumer.
The clever sticks at NEC have come up with a chip that will play both HD-DVD and Blu-ray disks.
A smart move for NEC, this could save the consumer having to make a choice between the two formats they have little or no knowledge of, but are being told that they simply must have.
The difference between the two standards is pretty considerable, not just in the capacity of the disks that Blu-ray has tried to make much of – as they saw it as a competitive advantage. One of the major differences is the interactivity, with Blu-ray going the route of Java, giving them both a considerable processing overhead in the machines that need to play it and huge flexibility in the depth of interactivity that can be achieved.
It's not the first time that bringing together the two formats has been suggested. Over a year ago Samsung said that they'd produce a dual format player. Mysteriously they've dropped this idea, and gave a serious amount of umm-ing and ahh-ing when asked about it at IFA this year.
NEC is telling all those who will listen that the chips should be shipping from April 2007 onwards.